Welcome to Gracie Barra Champaign
One team. One family.
Gracie Barra Champaign offers Brazilian Jiu-Jitsu classes with top quality instruction to meet the needs of its students – whether it is to get in better shape, learn Jiu-Jitsu for sport or for self-defense.
Gracie Barra Champaign offers classes for all ages and skill levels. In addition to learning the art of BJJ, emphasis is placed on fostering a team and family dynamic among students and instructors. All members become part of the Gracie Barra family and are treated with respect, regardless of belt rank or experience level.
At GB Champaign, students are the number one priority. Our instructors have dedicated their lives to the martial arts, and strive to make each training experience one to remember by inspiring their students to live the Brazilian Jiu-Jitsu lifestyle.
The Gracie Barra family is a global organization formed by more than 500 schools worldwide. School owners work together to ensure that classes are aligned with the Gracie Barra Program Structure developed by Master Carlos Gracie Jr. to meet the needs of students of different ages, gender and levels.
In addition to BJJ, Gracie Barra Champaign offers Commando Krav Maga classes.  Commando Krav Maga is the ultimate Israeli reality based street self-defense system. CKM was designed to teach students to protect themselves against brutal and vicious street confrontations by using no-nonsense, efficient, straight forward moves.
Whether you want to learn self-defense, ground fighting, or just get in amazing shape, there is a place for you at Gracie Barra Champaign!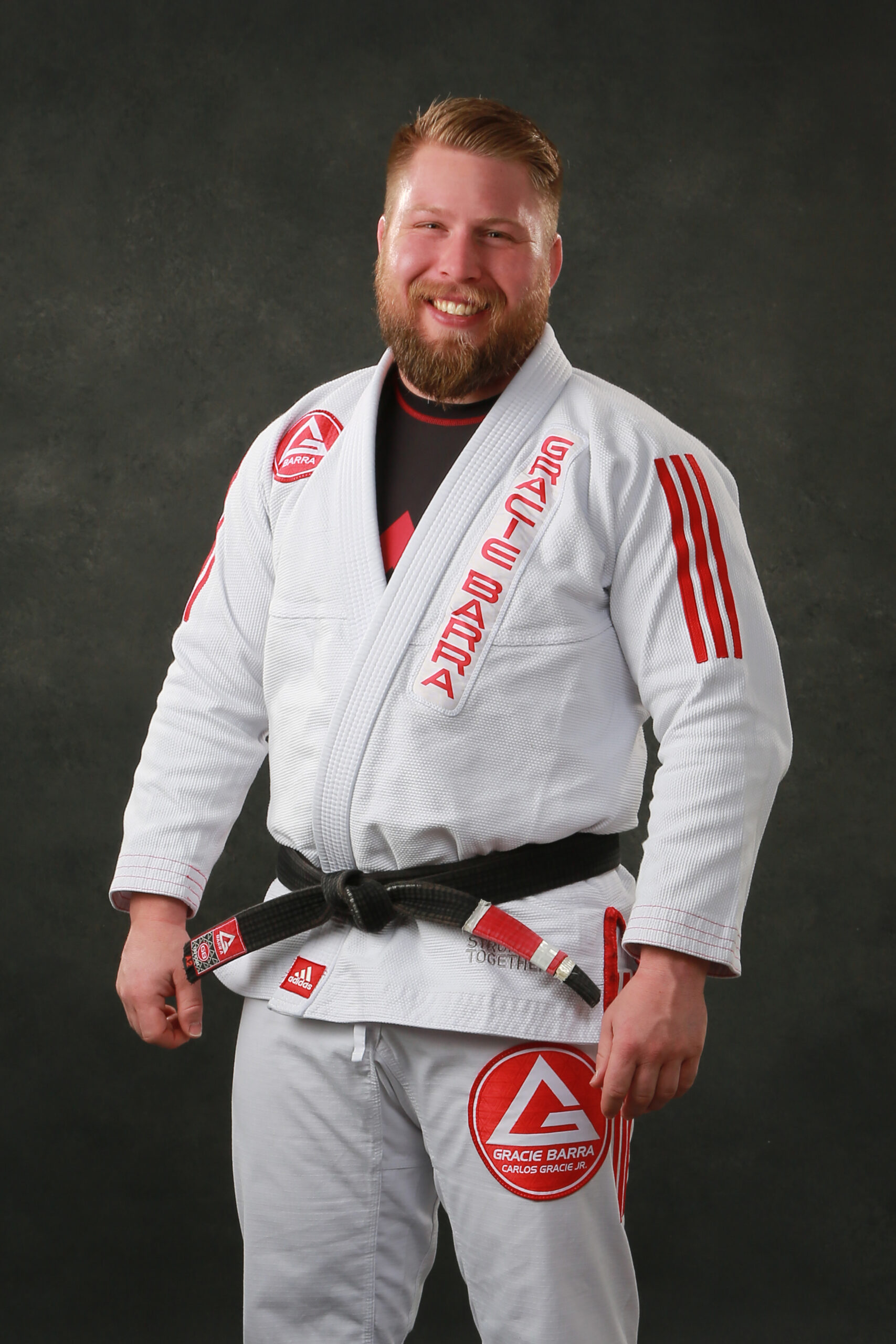 PROFESSOR  ​JOSH CADENBACH
Owner/Head Instructor
Professor Josh Cadenbach began wrestling at the age of 8 in his home state of Nebraska. He wrestled competitively throughout his childhood and high school years, winning numerous state and local tournaments. His success earned him collegiate scholarship offers, which Professor Josh turned down to serve his country in the 2nd Battalion 75th Ranger Regiment. In 2010, Professor Josh left the service and enrolled at the University of Illinois at Urbana-Champaign where he earned a Bachelor's degree in Political Science. It was during his time at the U of I that Professor Josh discovered Brazilian Jiu-Jitsu and in 2013 opened his first Gracie Barra school in Champaign, IL.
After nearly a decade running a school in Champaign, Professor Josh had the opportunity to start another school in Collinsville, IL and bring Gracie Barra to the St. Louis east metro area.
Professor Josh comes from the lineage of Professor Marcos Barros, a fourth degree black belt under Master Carlos Gracie Jr. and the owner and head instructor of Gracie Barra Springfield. Professor Josh is continually training to ensure his students receive the highest quality Brazilian Jiu-Jitsu instruction. In addition to being a Black Belt in BJJ, Professor Josh is a certified Level 8 Commando Krav Maga instructor, and certified firearms instructor. He brings nearly 20 years of grappling experience to Gracie Barra Collinsville, and with it the passion and drive to share the gentle art.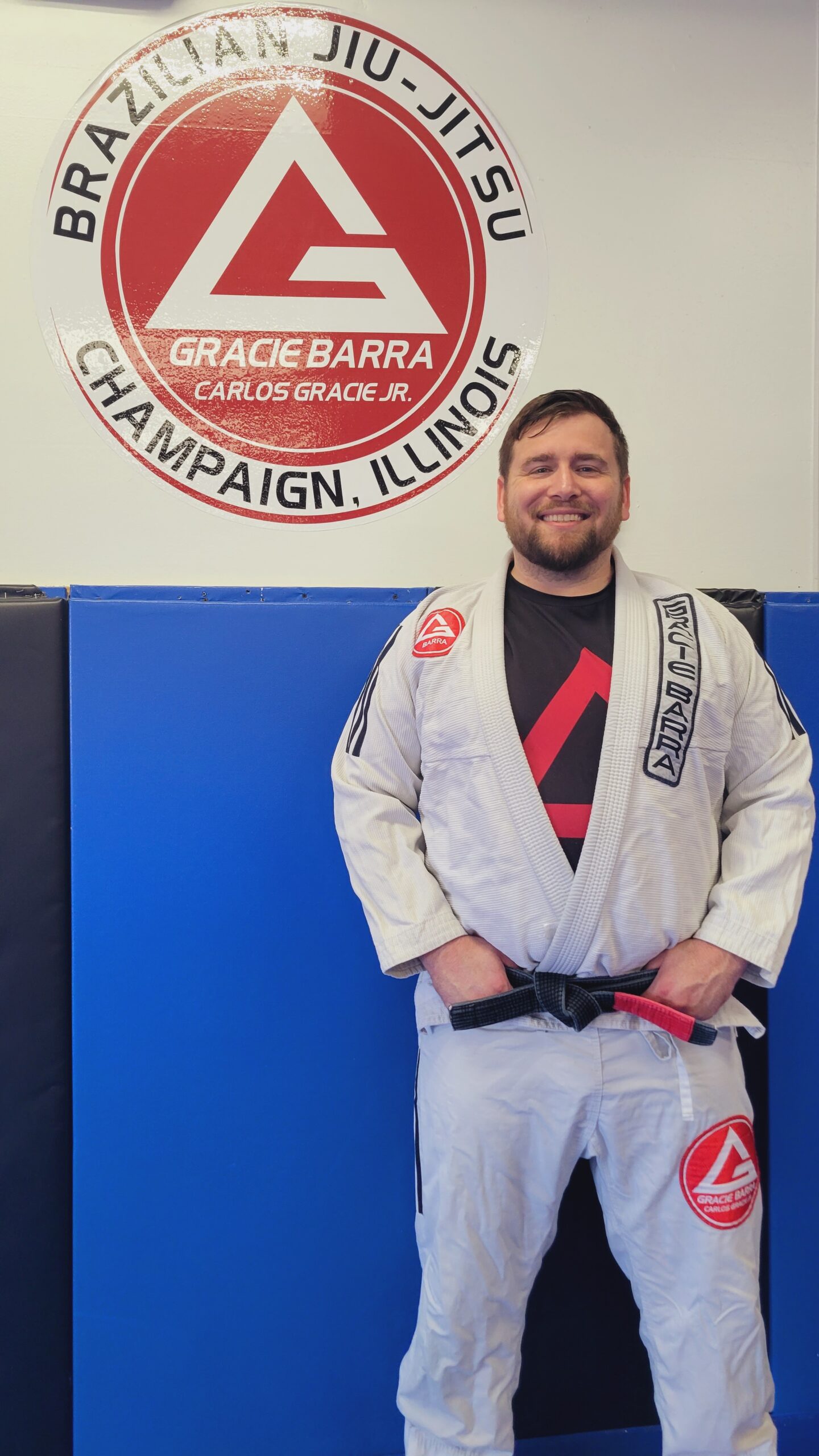 PROFESSOR  ​ROB MOORE
Instructor
Professor Rob Moore started his Martial Arts journey in 2003 in Kansas City, Missouri. There, he earned a Second Degree Blackbelt in Taekwondo and became the Chief Instructor and head of the Children's program at Millennium Martial Arts Academy. In 2010, He moved to Cincinnati, Ohio after getting married, and transitioned to training in Brazilian Jiu Jitsu. Following his spouse through her medical career, Rob trained at a variety of schools until moving to Champaign Urbana in 2015 and finding a permanent home with Professor Josh at Gracie Barra Champaign.
Rob has a Bachelors of Science in Computer Science and Psychology from Truman State University, and brings his analytical approach to martial arts to the Gracie Barra Champaign family. Rob is a Software Engineer and Systems Architect by trade, building software distribution systems for a Fortune 500 software company.  The Gracie Barra Champaign kids program is designed in consultation with Champaign Urbana area pediatrics and help to grow self confidence, emotional and physical strength, and foster a love of learning inside and outside of the Gym. In this program children learn to overcome adversity, develop their leadership abilities, and use Brazilian Jiujitsu to succeed in competition and all areas of their lives.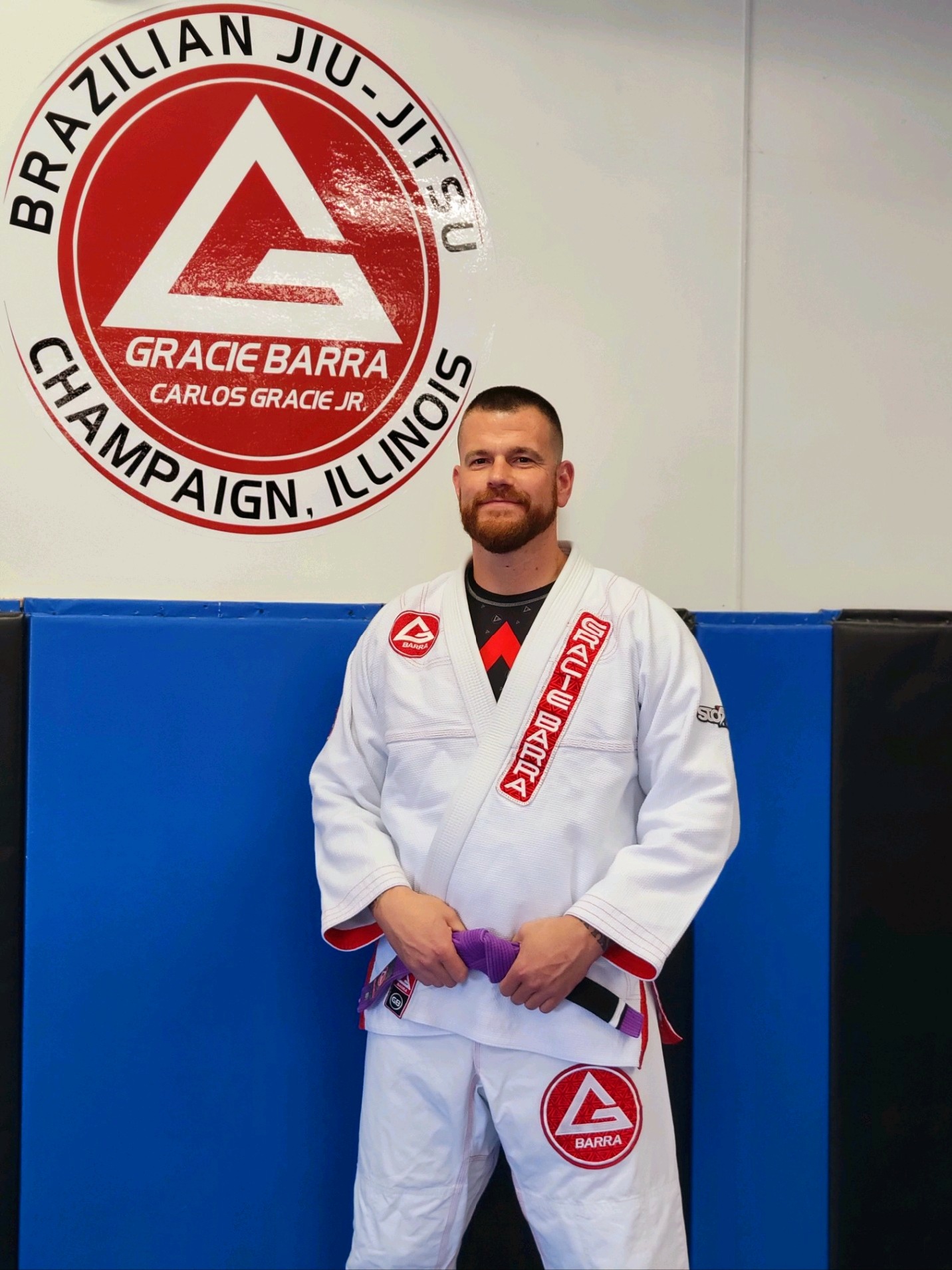 Coach  ​RENE WISSEL
Instructor
Coach Rene has been training with Gracie Barra under professor Josh since 2018. He has been an ICP certified instructor since 2021. Coach Rene is currently an active duty police officer, swat team member and law enforcement control tactics instructor. His experiences include being a collegiate athlete, a youth coach and fitness gym manager. He believes in Master Carlos's philosophy of "there is no losing in jiu jitsu. You either win or you learn."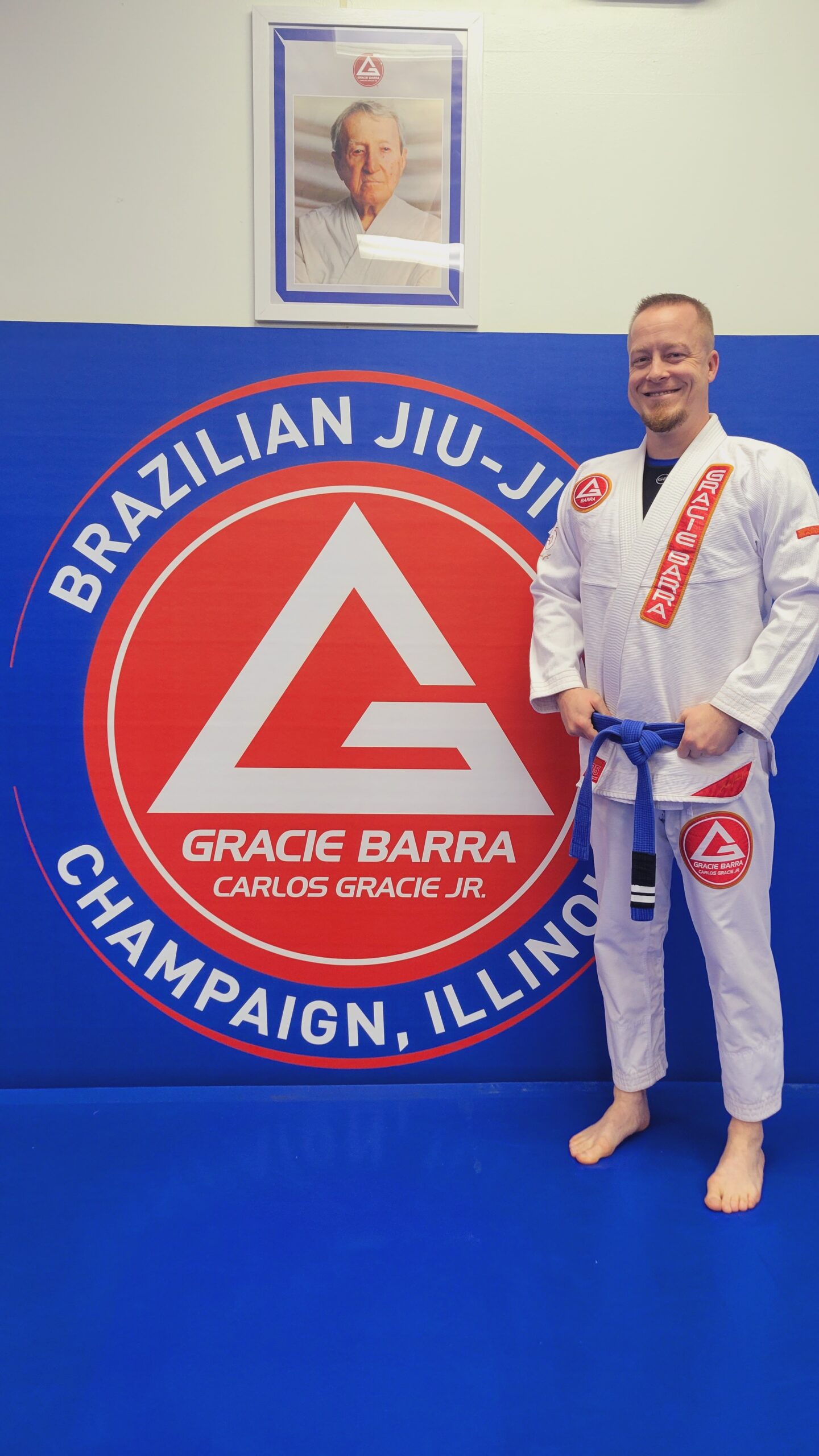 Coach  JUSTIN ADAMS
Instructor
Coach Justin Adams was always very active in athletics growing up and found wrestling and cross country as he entered high school. Both sports were important but wrestling was his biggest passion and the desire to teach it almost took him down the path of teacher and coach. However, architecture and design were also subjects of interest and he took that path where he attended Missouri State and graduated with a Construction Management  degree. He worked in the construction industry for a contractor based lumberyard designing and drawing kitchens. Later he switched to his current employer managing a branch for a national mattress retailer. Now his family of four likes to stay active and outdoors. Finding Professor Josh Cadenbach and the Gracie Barra family in 2020, he reengaged with his love of grappling and coaching.